The number of brands incorporating Instagram marketing into their business strategy has surged in recent years. While just over half of U.S. marketers used Instagram in 2016, more than 75% will do so by 2020.
It's no wonder: Instagram has a billion monthly active users, and an advertising audience of more than 849 million.
Setting up an Instagram for business account
Before you get started with Instagram marketing, you need an Instagram for Business account or an Instagram Creator account. If you already have one, skip ahead to the tips below. If you already have a personal account, you can skip to step no. 3 of these instructions.
If you're brand new or are creating a brand new account, here's what to do:
Step 1: Download the Instagram app
Step 2: Sign up
Open the app.
Tap Create New Account (on iOS) or Sign Up With Email or Phone Number (on Android).
Enter your email or phone number.
Create your username and password.
Fill out your profile info (more on this in Tip 4) and tap Done.
Step 3: Switch to a business account
Go to your profile and tap the hamburger icon at the top right.
Tap Settings, then Account.
Connect your account to your Facebook business page, if you have one.
Add your business details.
Tap Done.
Instagram marketing tips you can't afford to ignore
1. Use a business account
Just in case you skipped over the section above and plan to dive into the rest of the tips while using a personal account, here's why you should reconsider.
A business account gives you access to features you can't use with a personal account, including:
Instagram Insights
Instagram ads
Instagram Shopping
Contact information and a call-to-action button on your profile
A creator account has its own set of benefits for influencers and content creators. But for most marketers, a business account is where it's at. Hop back up to the top of this post and convert your account if you haven't already done so.
2. Clearly define your goals
All social platforms are tools. But you can't use those tools effectively unless you know what it is you're trying to build.
Instagram marketing can mean different things to different marketers. Are you looking to:
Increase brand awareness?
Get new leads?
Establish your brand as an industry leader?
Make sales?
You might even want to combine several different outcomes. But unless you know where you want your Instagram strategy to take you, you're unlikely to get there. We've got a whole blog post on goal setting to help you decide what matters most to your business.
3. Define your audience
A little preliminary research can help you figure out who you can best reach using Instagram. For example, check this out
The most active Instagrammers are between 18 and 29.
The United States is the largest Instagram market.
More urban residents use Instagram than their suburban peers.
But that doesn't mean you should only use Instagram to try to reach Urban Americans in their 20s. Instead, you need to define your target market so you can create content that speaks directly to that audience.
This will also become critical when it comes time to choose targeting options for your Instagram ads.
4. Optimize your profile
In just 150 characters, your Instagram bio needs to make a great first impression, convey your brand personality, and tell people why they should bother following your Instagram account.
That's a lot to ask from a small space.
Fortunately, you also get a few other fields on your Instagram profile to showcase what your brand is all about and make it easier for people to find you. These include:
Your name: 30 characters, included in search.
Your username: AKA your handle. Up to 30 characters, included in search.
Your website: A clickable URL you can change as often as you like.
Category: A business feature that tells people what you're all about without using up bio characters.
Contact info: Tell people where to find you.
Call-to-action buttons: Give Instagrammers a way to interact with you directly from your profile page.
G Adventures does a good job of making the most of all the fields the profile has to offer.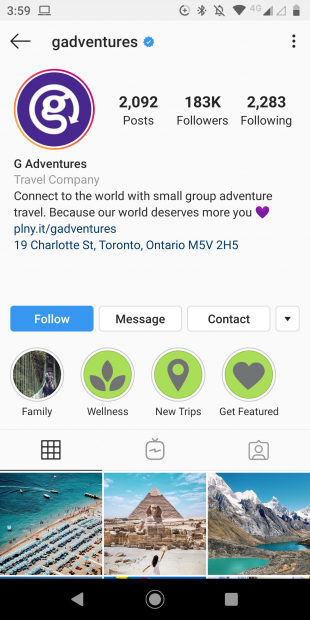 For more profile strategies, check out our blog post on how to optimize your Instagram profile for business.
5. Choose the right profile photo
For most brands, your Instagram profile photo should be your logo. This helps provide credibility and allows visitors to see at a glance who you are.
Your Instagram profile photo displays at 110 by 110 pixels, cropped to a circle with a 110 pixel diameter. However, it's stored at 320 by 320 pixels, so you should upload a file that large to make sure it still looks good if Instagram changes how profile pics are displayed.
If your logo is a square, you'll need to zoom out to make sure the whole thing shows within the circle, like Home Depot does: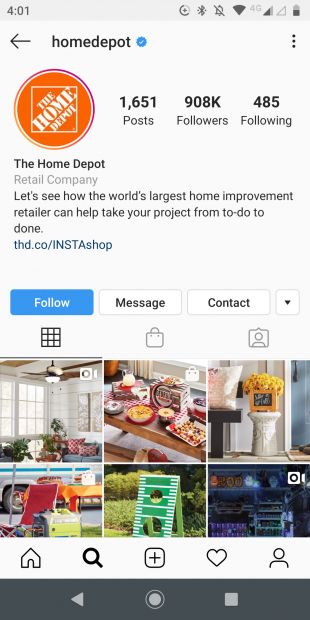 6. Create visually compelling content
Instagram is a visual medium, so your posts have simply got to look great. You don't need professional photography equipment, but your photos do need to be sharp, well-lit, well-composed, and in focus, at a minimum.
Even more important, your visual content needs to be compelling. Great photos are nice, but if they don't tell a story, or get viewers excited, they're not going to help you use Instagram for marketing.
Not sure what to post? Here are a few ideas:
Behind-the-scenes posts: Give followers a look at your office, your storefront, or your manufacturing process.
Quotes and text-based images: Play with text to create visually interesting content with no photos required.
Regrams and UGC: User-generated content is by nature authentic and compelling.
Instructional posts: Teaching followers how to achieve a goal is about as compelling as it gets.
Videos: The maximum length of a video post on Instagram is 60 seconds, but you can go much longer with IGTV.
7. Establish your brand's "look" on Instagram
Once you decide what type of content to publish, you need to decide how it's going to look. As we explain in our post on creating an Instagram aesthetic, color influences buying decisions and brand recognition.
Your Instagram look should be consistent across your posts, helping followers easily recognize your content in their feeds.
One great example of this is the Instagram account mr.pokee, home of a hedgehog and a cat dubbed "the world's cutest adventurers."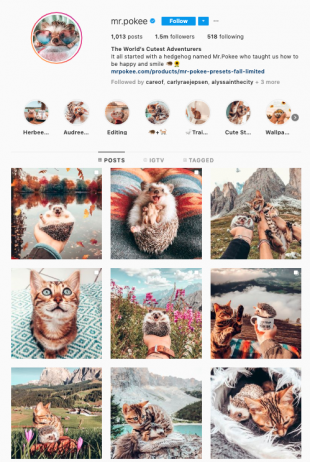 The photos have a consistent color scheme, look, and feel. They're immediately identifiable.
Tell us what you think. What's the biggest thing you're struggling with right now that we can help you with?